01
HOK Futures Competition
"I don't know why nobody comes to redesign this place.
There's so much space for the kids. These kids at the
Masjid just have so much energy! They gotta blow it off,
you know? You guys are architects, right? Let the city
know we want space too."
—Neighborhood Pedestrian
Communal Fabric pursues a more local expression of the "urban fabric" of Mill Creek by crafting a new site for synergies of local program and public commons via connection, continuity, and meandering landscape. The existing site is embraced as part of the fabric of the local neighborhood, and celebrated in the articulation of a new maternal resource center which borrows its character from the site's original brick structure, now revitalized into a new public market.
The project's footprint, openings, and connecting bridge allow for maximum interior and exterior communal space, and foster continuity between each building and important local sites like the neighboring Clara Muhammad Square, while the ground further challenges boundaries between various programs and spaces through a mix of seams, patterns and variable typologies that extend from exterior to interior, and invite the community to find joy in connectivity, contemplation, and nature. The site's context includes the Philadelphia Masjid, numerous residential blocks
and a myriad of small businesses.
The proposal becomes an extension of Clara Muhammad Square, and allows for more green space to flow across N. 47th Street. Our proposal creates a playful and accessible landscape which works in accordance with the existing slope. As the parti diagrams showcase, our main goal was to preserve the building on site, and to be able
to open up the north eastern area of the site to create accessibility towards the Masjid. The maternal resource center's design allows for patients to retain
their privacy as well as having a comfortable connection to the marketplace.


Section Through Market and Maternity Clinic

Interior Render of Market


Site Axonometric


First Floor Plan

Second Floor Plan

Render of Market

Program Blocking Diagram
The erasure of Seneca Village was an act of human injustice, as well as environmental injustice.

Before the park committee determined to displace the black community of Seneca Village through eminent domain, William Cullen Bryant (the poet and editor of The Evening Post) suggested a privately owned, largely undeveloped area along the East River known as Jones' Woods. As plans for this location began to take shape, some park advocates argued that the 150-acre space was not big enough, nor central enough; others pointed out that those promoting this location were landowners in the area that would benefit financially from the presence of a park.

One of the first sites considered was Jones's Wood, a 160-acre (65 ha) tract of land between 66th and 75th Streets on the Upper East Side. The area was occupied by multiple wealthy families who objected to the taking of their land,particularly the Jones and Schermerhorn families. Downing stated that he would prefer a park of at least 500 acres (200 ha) at any location from 39th Street to the Harlem River. Following the passage of an 1851 bill to acquire Jones's Wood, the Schermerhorns and Joneses successfully obtained an
injunction to block the acquisition, and the transaction was invalidated as unconstitutional.

In zooming out from the section, the urban condition of Seneca Village begins to engage with its central park neighbor and extensively developed city across 8th avenue. The streams, the hills, ponds and pathways that
existed in Seneca Village have remained and grown with the community, and spread across the park. What began as a single dish constructed to preserve the entities and memory of Seneca Village multiplied and inhabited across the site through the mist from its tree. Each dish built since exists as a unique character in the community, in the preservation of specific species, engagement in various terrain, program for inhabitants, and offering of public common to those inhabitants and the greater city.


Site Axonometric

Site Axonometric / Close-ups
Aerial Perspective


Close-up of Axonometric / Colored

Illustrative Section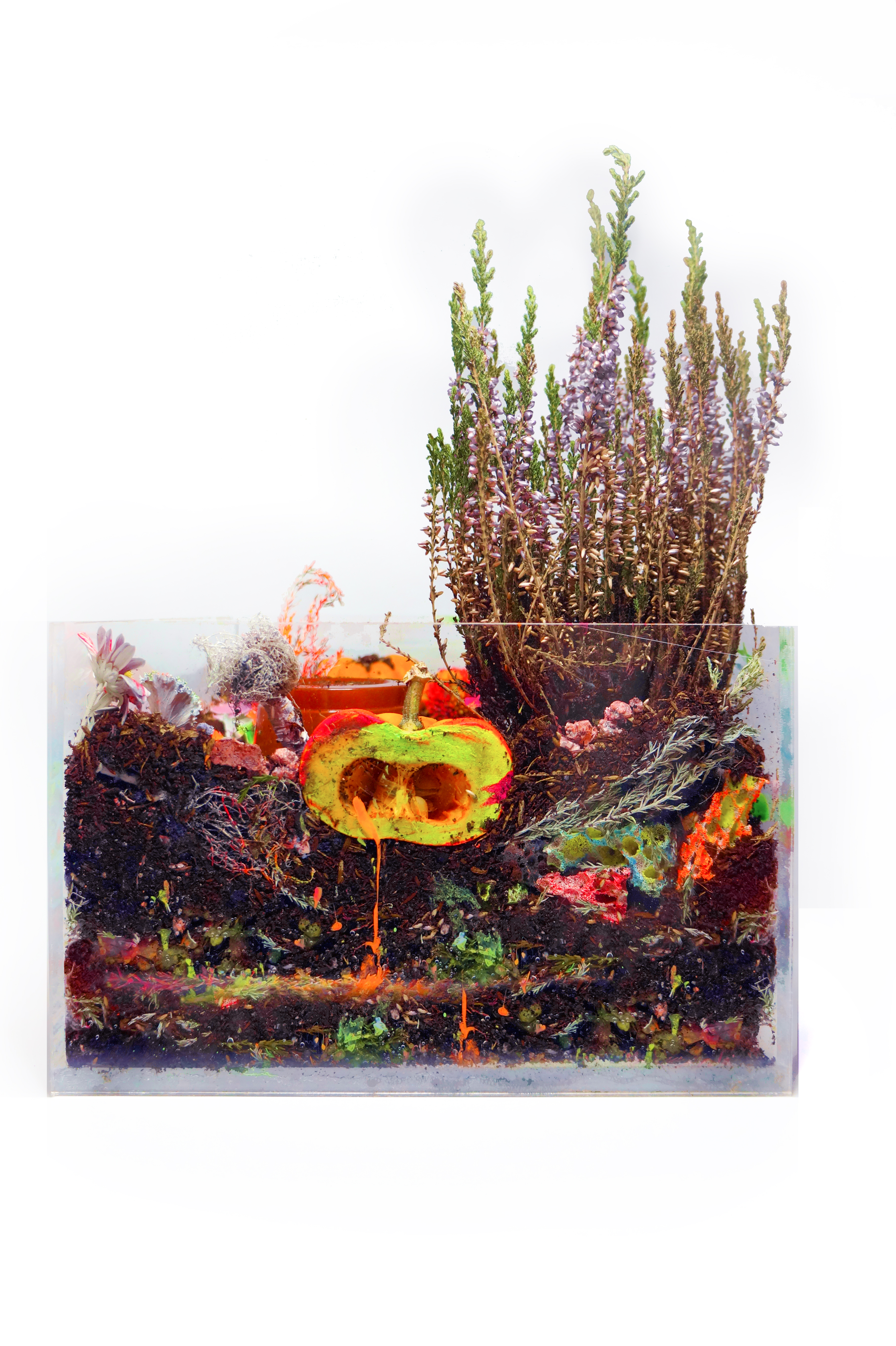 Strata Earth Model

Homunculi / Bowls of Earth Model

Humanoid Occupant



Snail Occupant
"Grey areas are unexamined territories (leftover spaces) between and under our common beliefs. If you can approach these from another angle, then you're able to deconstruct their apparent normality. ...That our culture is predominantly visual is obvious. …What alternatives then might be possible when we privilege other senses beyond the seeing?"

-Giovanna Borasi

Our project proposes to re-create and infiltrate traditional gallery spaces with environmental biomes and art residencies to create a new hybrid typology for the 21st century museum. We define biomes as place-making rooms of environmental change which oscillate between natural and artificial. This is seen through the lens of non-anthropocentric agencies. These biomes could be Virtual Biomes, plant incubators, or homes to synthetic art. Paola Antonelli's Broken Nature exhibition influenced the project's ethos which stresses the positive outcome of museums being curated through a fluid institutional approach; encompassing both the natural and the imaginative in order to accumulate an applicable data set to mindfully continue conversations surrounding the anthropocene.

Our collection of images reflects on Borasi's Museum
Is not Enough concept of "gray areas". This allowed us to think of a museum institution more fluidly; as a series of biomes that allow for different natural moments to exist in muddled binaries with the artificial.

Overall, the building is one that hopes to set a new precedent for what sort of natures, stories, and ideas deem a space. The urban canyon sets out to carve out a public space for the pedestrian, as well as informing inhabitants of what could be artificial, what is nature, and how we find ourselves in the mix as humans.

By observing, recreating, and integrating authorship derived from the surrounding context, this thesis attempts to closely read the area in and around West Philadelphia's neighborhoods through documentation in order to propose a participatory intervention, a small community center with flexible and open flea/food market space for the neighborhood.

The thesis investigates the way in which queer architectural elements; defined as that which is detached or applied to the immediate original
vernacular of a building, create their own story through expressions of color via street-scape. The color of the existing vernacular alongside the mentioned queer elements will be documented, sampled, pixelated,
and then amplified to allow more of the neighborhood's color value to inform the design methodology of the proposal on site.